Dear Reader,
Now that I have posted a few entries I feel that it is time to recap some of the more important aspects of this catharsis. First, I am an unrelenting cheapskate. Okay. That's not entirely fair. I am peculiarly frugal. Peculiar in that I will buy things with wanton abandon, but only if I can find the cheapest way to buy those things. And I will try to make the utmost of anything that I buy, because I hate to see an object not live up to its potential.
I once pickled the green stems on the bottom of a head of cauliflower, because I had to pay for it and I didn't want to just throw it away.*
Second, I love books. I still have the very first book I can remember ever receiving as a gift. My grandparents gave me a copy of The Hardy Boys' Ghost Stories when I was seven and it still holds a place amongst all the highfalutin' flotsam to wash up on the proverbial shores of my literary collection.
Third, my love of books often puts me at odds with the realities of living in apartments. As has previously been documented in my ramblings about a trash pile bookcase.
This is why I am always trying to find inexpensive ways to acquire new books and acquire cute furniture on which to store and display those books. So, when my beautiful better half discovered some inspiration for turning $15 IKEA shelves into classy, urban storage, you can bet that I was sold on the idea.
Our dilemma was not uncommon. We had recently moved into the first-floor unit of a duplex house and were contending with a very awkward floor plan with an exceptionally long living room. We had made our peace with the half of the room that we dedicated to the couch and television, but after a few attempts to accommodate the rest of the space with a day bed and some bookcases, nothing felt … right.
My solution was to replace the bookcases with something custom that would allow us to keep the day bed, for additional seating (read: so my kids could lay on it and play video games), but maximize the wall space for storage. And so the plan began to take shape…
*I will have you know, that I enjoyed those pickles, even if no one else did.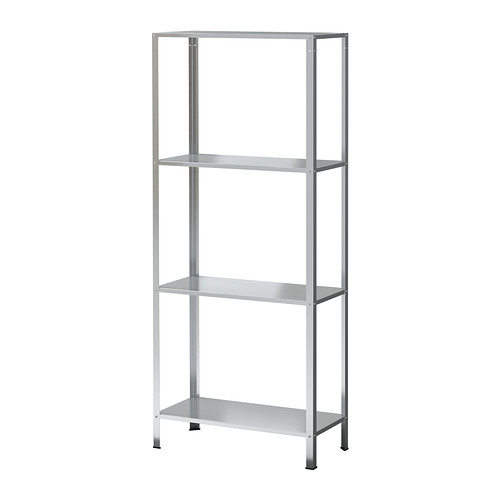 This story starts with the least likely candidate for upcycling IKEA furniture. The Hyllis is a dirt cheap (retailing for around $15), basic set of galvanized steel shelves that present themselves as a drunken, unstable, flimsy version of the sort of storage shelves you might find in a garage or restaurant store room. As we stood in IKEA, pondering the feasibility of this project, we were actually concerned about the steadfastness of these shelves. Throwing caution to the wind, we invested in three sets.
We knew that our next stop would involve buying lumber for the shelves, but having now seen the Hyllis in person, we also knew that we would need to do something about how it looked. Ultimately, we settled on a "black hammered-metal" spray paint that completely transformed the appearance of the unit. We also settled on a darker stain than what I had used for the stereo console, so that the shelves would look unique in the room.
The concept was thus: We would have four shelves run the length of the short wall–with a single four-shelf Hyllis unit at each end– and then have two long shelves run the length of the long wall, leaving room underneath for the day bed–terminating with a single Hyllis unit.
Because of the dimensions and design of the Hyllis units, we opted to use 2 pieces of  1″x6″ lumber for each shelf. Each piece had to be notched to accommodate the legs of the Hyllis units. Not having access to the tools necessary to do this with any precision, I decided to eschew a clean aesthetic and go for a more rustic approach. This was accomplished by rough-cutting the lumber with a crosscut hand saw, and then using a chisel and rasp to ensure that the opening was large enough for the legs.
In what would be become a rare moment of foresight, I decided to stain the lumber on all sides, rather than just what was visible for this installation. After staining, I hand-rubbed each shelf with some teak oil to give it a little shine, accent the grain and tone down some of the roughness since I hadn't sanded the lumber.
In the end, we had a custom bookshelf that absolutely blew me away.
When we moved from this apartment, that rare bit of foresight paid off in an unexpected way. (I suppose, somewhere in the back of my mind, I always knew this configuration was unique and likely not to be duplicated in any future apartments.)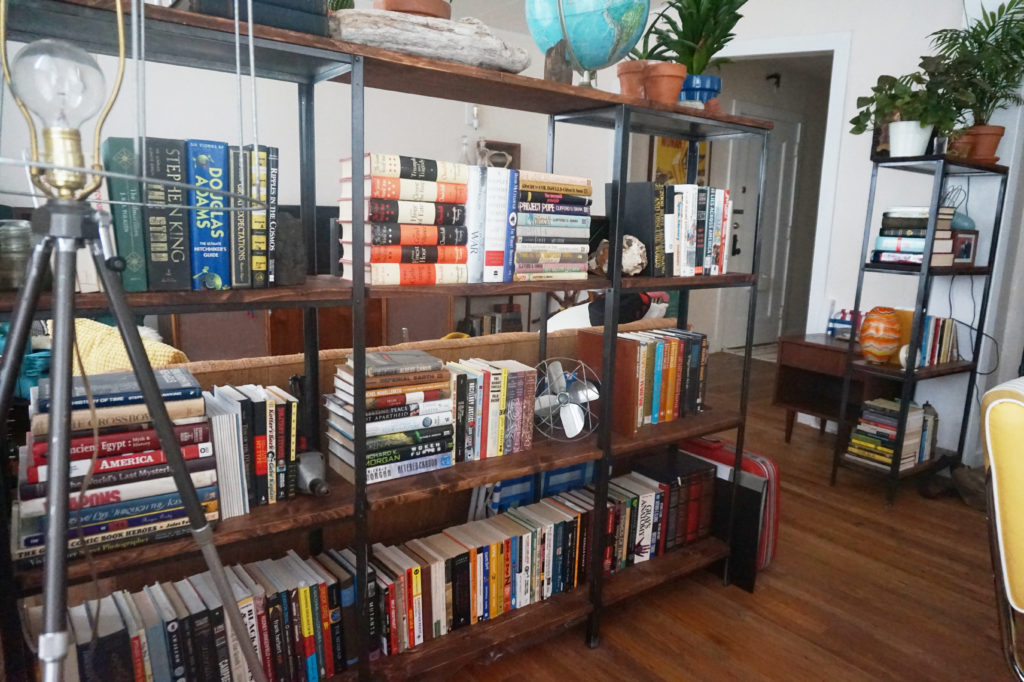 As it turns out, our next place also had a long, awkward living space. But in an apartment with a very different floor plan. We decided to eliminate the long, free-standing portion of the original shelf design and use what remained as a room divider, so that we could separate our new space into a living room and a dining room.
Now, that's making the utmost of a purchase.
Supplies:
*This is technically what I used for the project, but I wouldn't necessarily endorse this can design, as I found the trigger to be incredibly quirky and didn't really care for the results.