I don't believe anyone who truly knows me would be surprised to hear me say that my grandmother may be my favorite human being in the world. That being said, we have surprisingly little in common. She prays for my immortal soul; I spent years trying to subtly encourage her to listen to punk rock. However, there are three immutable commonalities that we share: a love of spinach (with a dash of apple cider vinegar), a desire to own a personal library of books and a disinclination to take crap off of anyone.
In pursuit of the second commonality, I have amassed a collection of books that has historically extended beyond my capacity to store and display, and so I am almost always looking for more book storage space. Having been forcefully graduated from the youthful charm of $30 Target bookshelves, I am always scouring the universe for more unique solutions, on the cheap.
As such, you can imagine my great surprise and glee when the gods and goddesses of Free Stuff sought fit to place an old, beat-up, handmade bookcase in a trash pile around the corner from our apartment.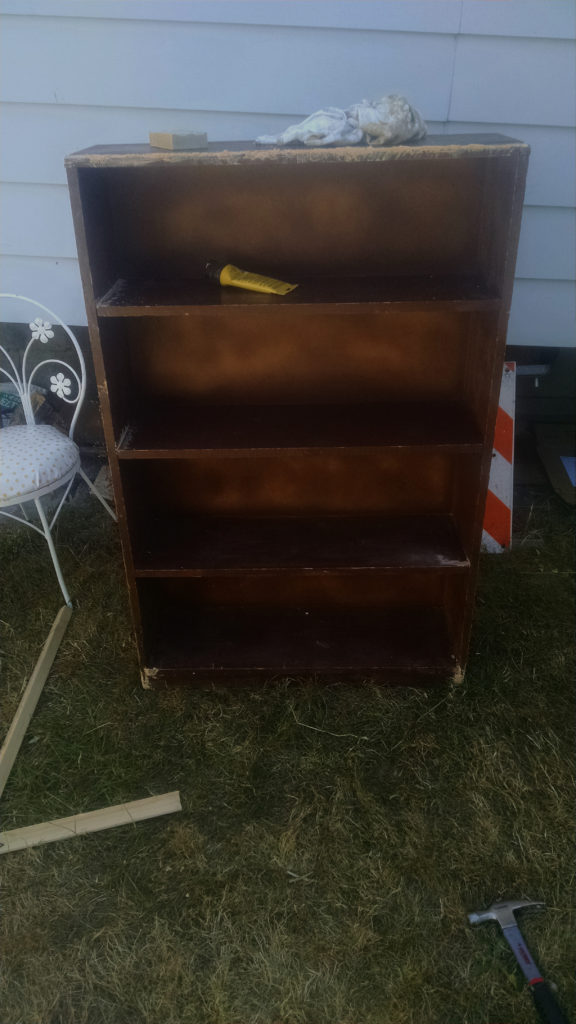 Now, when I say "old, beat-up, handmade", I don't mean to imply that this bookcase was somehow inferior because of these attributes; merely that I can thoroughly appreciate why its previous owners thought it worth naught but the trash pile.
The picture above doesn't do much to document the condition in which I found this bookcase. Shelves had started to separate from the side, the entire bookcase was hastily spray painted a shade of brown that was simply awful and the top edge of the case had been inexplicably chiseled into a rough-hewn quarter round. Not to mention the requisite collection of cobwebs in the hollow under the bottom shelf.
My first order of business was to resolve the structural issues. The bookcase and I became rather more familiar with a tube of wood putty than might be normal, which is to say that I used it to fill in the gaps where the pieces of wood were starting to separate, as well as to build up a square front edge.
Having to use so much putty made it impossible to strip the paint and use the original wood, so I opted to use up the rest of the veneer and stain that I had purchased for the IKEA shelves. I wanted to add a little color and contrast, so I painted the inside a deep green.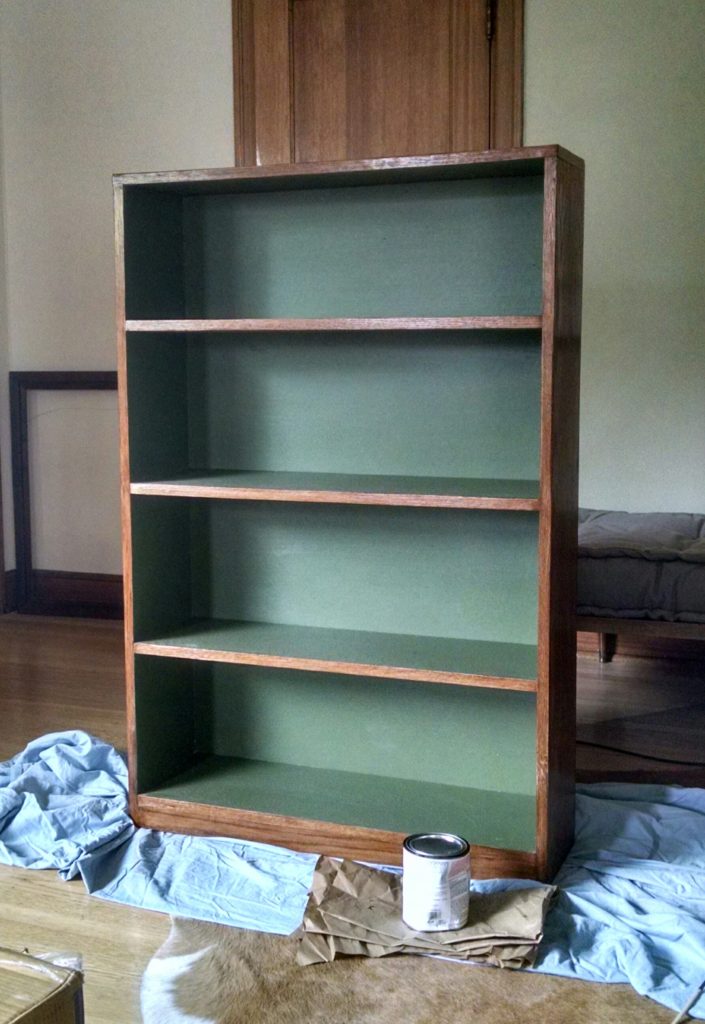 When all was said and done, this ended up being one of my favorite pieces of furniture. It perfectly complemented our bedroom and provided me a safe, gorgeous space to hide away all of my embarrassing science fiction paperbacks. Sadly, when we moved, we simply didn't have the space for it, so we had to let it go.
Supplies:
Green paint (I honestly can't remember the details)